School Council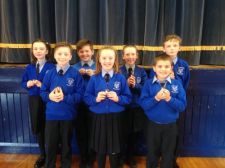 We are delighted to introduce you to our new school council.
We have 2 councillors from each year group who have been voted in by their classes. We are looking forward to taking our school forward by working together with our pupils and hearing their wonderful ideas.
Congratulations boys and girls and good luck in your new posts!
Nazareth House Primary School, Bishop Street, Derry, BT48 6UN | Telephone: 028 71280212

WEBSITE BY: SCHOOLWEBDESIGN.NET | Login