Wonder of Christmas
5th Dec 2015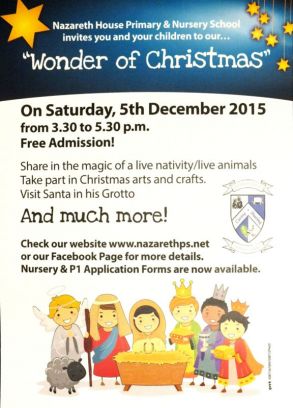 What a fantastic day was had by all at our "Wonder of Christmas." And what a turn-out! Congratulations to the staff, children and parents who made this such a special day. Heartfelt thanks also to the hundreds of families who braved the inclement weather to come along. The tail-end of a hurricane doesn't put our lot off!
Santa's Igloo was a great attraction and it hasn't even begun to melt yet in spite of the hundreds of people, big and old, who cosied up inside.
Many thanks to Kidzfarm for bringing along their beautiful animals. Poppy the goat could have been kidnapped and taken home.
Finally thanks to Santa for taking the time out of his very busy schedule and spending the day with us.
We will all sleep content for a while!
Check out the gallery for some Santa Pics. More to follow.
Nazareth House Primary School and Nursery Unit, Bishop Street, Derry, BT48 6UN | Telephone: 028 71280212