Choir Perform at St Mary's
23rd Nov 2014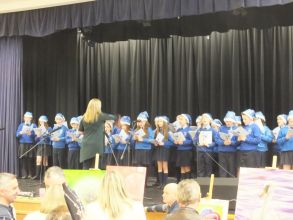 Our choir began it's hectic Christmas schedule with a performance of Christmas favourites at St. Mary's College Craft Fair. This was the first time we had performed at this fair and it was a resounding success.
Well done to Mrs Higins and Mrs McMonagle who lead the choir. Also thankyou to all the teachers who came along and lent their support. Not forgetting, of course, a huge thank you to the parents for help in getting the children to and from the event.
As for the children, .... you make us all so proud. Long may it last!
Nazareth House Primary School and Nursery Unit, Bishop Street, Derry, BT48 6UN | Telephone: 028 71280212